Rock Climbing at Vertical Adventures – January
On January 11, 23 scouts and nine adult leaders brought the outdoor spirit inside, with an overnight camp-in at Vertical Adventures. Scouts received instruction on climbing technique and safety, and adults were trained on belaying. The Scouts then hit the rock walls and climbed past midnight before crashing on the mats and waking up to hard-earned donuts and other healthy selections.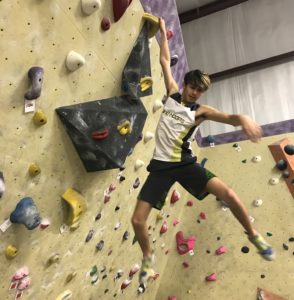 "Murder Mystery" at Camp OYO – February
The February outing was a new one for Troop 166 and it turned out to be a huge hit! "Murder Mystery" is an advanced clue-solving Whodunit that brings together new skills and knowledge – theatre, problem-solving, forensics, teamwork and leadership.
At the core of this activity was an intricate script written by a very creative group of scouts. Each participant was given a card with their character, background, and possibly a clue. The scouts immersed themselves in their characters, began to interact, and as the story unfolded… MURDER!!! But fear not, with teamwork and deductive reasoning, the culprit was exposed and apprehended.
"I was a former French athlete who knew too much… but by the end I had somehow become Italian," said one participant. Murder Mystery was a great success and will certainly become a repeat outing in future scouting years.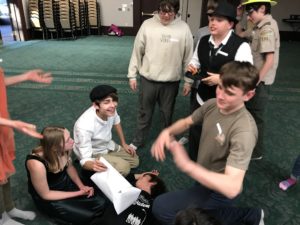 Sea Base High Adventure Crew Prepares for Action
The scouts and adults attending this year's high adventure outing in July have been hard at work preparing. Most spent the first weekend in February in Wilderness First Aid training, learning how to manage an accident scene and address various injuries when professional medical attention is an hour or more away. At the end of two long days of learning, the instructors staged interactive scenarios allowing students to experience the confusion of discovering an accident and the leadership required to take action. Everyone who attended was trained and certified in CPR.
This year's trip will be to Sea Base where the crew will spend a week on sailboats navigating between islands off the Florida coast. An outing to a local marina in May will get the group some initial experience with sailing on small boats before hitting the big time in Florida.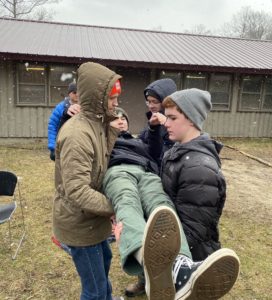 Upcoming Events
We have a lot in store in 2020!
MAR – Cat & Mouse
APR – Night Heist
MAY – Sailing
JUN – 6/14-20 Summer Camp
JUL – White Water Rafting
AUG – Ropes Course
SEP – Zip Lining
OCT – Pie & Ice Cream
NOV – Cave Exploration
DEC – Annual event Planning
Remember you can always keep up to date with the scouting calendar here on this site – just click Event Calendar above. You can also subscribe to the Google Calendar.